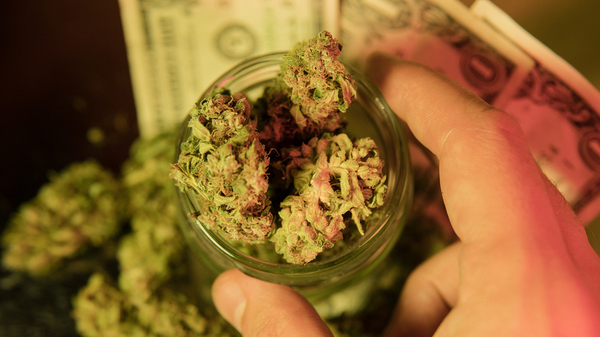 As the cannabis industry grows, with more states making the sale of marijuana and edibles legal, the needs for companies to have sound tools to manage production and finances is critical.
The cannabis industry is still in its infancy as a legal sector, meaning that laws and regulations are still evolving. The industry and its businesses are heavily and tightly regulated, especially when it comes to inventory control and finances. Maintaining that compliance, in an industry that previously operated in the shadows, is critical. Companies need tools that keep their operations in full compliance with transparent reporting and documentation.
Fortunately, technology solutions are available for the nascent industry. Enterprise resource planning (ERP) software helps companies looking to improve operations, save money, and remain fully and completely compliant across multiple legal jurisdictions.
Below is a guide to ERP software for the cannabis industry and how emerging cannabis businesses benefit from the right ERP.
Business challenges facing the cannabis industry
Cannabis companies face several challenges, some of which are unique to the industry they operate in. Here's a closer look at four of those key obstacles that cannabis business owners are looking to address:
Staffing Challenges
Working in the cannabis industry can be an exciting proposition but finding staff with the skills necessary for the growing, harvesting, processing and handling cannabis is challenging. With so much public and regulatory scrutiny, cannabis company employees need to be sure that they have the training, certification and licensing (in some states) that's required. It's not a matter of putting up a Help Wanted sign either. Workers in both growing and retail operations have to be familiar with the products, dosages, financial and transactional requirements, and documentation necessary to ensure that only those allowed to purchase cannabis products can do so. As businesses look to scale up, having systems in place that allow for a scarce labor supply to remain productive is critical.
Financial obstacles
With different regulations in place at the local, state and federal levels, cannabis companies often face significant challenges in finding financial institutions that will handle their finances. Most cannabis companies can only operate in a cash-only venture. That means there need to be detailed, documented and transparent bookkeeping, accounting and financial reporting systems in place. Without those systems functional and efficient, with proper documentation, companies risk regulatory, legal and IRS scrutiny.
Regulatory issues
While cannabis is now legal in many states, each jurisdiction has its own guidelines and rules regarding what can be sold, when and to whom. Local and state law enforcement officers and the Drug Enforcement Agency are likely to pay close attention to the businesses and the way those businesses operate. Some of the regulations, being so new, can be confusing and open to different interpretations. Without the systems in place to track and document multiple aspects of the cannabis industry, operators risk considerable fines and other penalties. For cannabis companies, the regulatory and legal challenges are extensive. Areas like intellectual property, contract law and marketing restrictions, are new, emergent and likely to change.
Stigma
For many citizens, the legalization of cannabis is a welcome step and one that was much-needed. For others, the move to legalize cannabis is seen as unwise and inappropriate. The stigma and taboo of cannabis consumption are very real and must be addressed by cannabis companies.
With so many complex challenges, it's no wonder that cannabis companies are looking to technology solutions to help them navigate. That's where ERP software comes in to play.
ERP solutions for the cannabis industry
Enterprise resource planning software has been available for decades. In recent years, the advent of new technologies such as automation, the Internet of Things and artificial intelligence have added to the capabilities of these software platforms.
ERP solutions are designed to integrate multiple components of an enterprise, allowing for deeper insights, more efficient operations, and reduced costs. ERP software allows for businesses to coordinate key back-office functions, including finance, human resources, accounts receivable and accounts payable, and billing.
In addition to back-office work, an ERP brings together warehousing and supply chain operations. From transportation to inventory control, ERP solutions add advanced functionality that integrates with production, picking, yield, and retail functions.
What's more, for industries like the cannabis profession that are under high regulatory scrutiny there are automated compliance tools that measure, track, report and document information critical for regulators.
Ways an ERP solution helps solve cannabis industry challenges
Choosing the right ERP solution to help with the complexities of cannabis production means understanding the features and capabilities available. Here are a few of the ways that your ERP solution can help with the day-to-day management, growing, financials and compliance issues facing cannabis companies today.
Data Analytics. You want to be able to capture, report on and use data about your cannabis operations. An ERP platform allows you to understand data about your business and the industry to make better informed strategic decisions about products, marketing, and operations. For example, data insights can help cannabis growers determine which strains will be most cost-effective and profitable. Using Big Data analytics can help cannabis companies gain deeper insights into cultivation, manufacturing and retail operations.
Compliance. Using a cannabis-specific solution allows you to maintain compliance with insights from across the supply chain that are critical for regulators. Your solution needs to be able to monitor, track and record data that may be different across multiple jurisdictions. Being able to track and report on multiple sets of compliance guidelines is an absolute must for today's cannabis company. Out-of-the-box solutions that do not have the flexibility and customizability that a cannabis-specific ERP solution provides just means more work, headache and expense to comply with multiple sets of guidelines.
Crop Management. Cannabis cultivation is an important consideration and a cannabis-specific ERP solution can help you with the right tools that give you the capabilities to track production, growth and revenue. Cannabis management software can help you track the development of each strain and track milestones, key dates and reminders. Software should also allow for the tracking of crossbreeding, plant genetics and clone propagation. Automated reminders can help track and monitor important components of plant management, from watering schedules to light cycles to applications of nutrients and pesticides. Charts and reports can help analyze and make smart decisions about the future of your plants.
Financial Management. Your financial reporting tools need to be robust enough to handle some complicated realities within the cannabis business. The reporting tools need to account for differences among states and provinces while also ensuring compliance with the IRS guidelines in section 280E, which prohibit businesses from deducting business expenses related to gross income gained from the selling of certain scheduled substances, which include cannabis.
CAPA Management. Like with other companies that provide products for consumption, cannabis companies need solutions that address Corrective Action / Preventable Action (CAPA) and recall needs. Your ERP solution needs to provide ways to track and manage customer issues, identify the affected materials, providers, sources, and products, calculate quantities and batches of affected product, and identify shipments and customers. In the event of a recall, you need a tool that reduces the time necessary to issue and execute product recalls, manage risk, communicate to stakeholders and the public, and address regulator concerns.
Features to expect from your ERP provider
When you're working in the cannabis industry, you need an ERP solution that offers you the tools that allow for efficient operations, compliance, and traceability. Here are a few of the features you should expect when choosing an ERP provider:
Seed-to-sale traceability
RFID and barcode automation tools to track and monitor inventory
Inventory tracking tools
Integration with state and provincial regulatory systems
Automated compliance tracking and report generation
Operational data about temperature, HVAC performance, and other environmental information
Product recall management functions
Where to turn for advice on cannabis ERP solutions
At NexTec Group, we've partnered with Sage, a leading provider of ERP solutions for process manufacturers. CannaBusiness ERP, built on Sage X3, offers cannabis companies the same tools and functionality that it has honed from work with other process manufacturers, including food and beverage makers, pharmaceutical companies, nutraceutical companies, chemical manufacturers and agricultural businesses.
NexTec has developed powerful tools that work in tandem, with the Sage Business Cloud solution. Called CannaBusiness ERP, it's a powerful set of add-ons that allow for more enhancements to the Sage Business Cloud product. With Sage and NexTec, your cannabis business can:
Manage grow operations
Maximize field resources
Track (forward and backward) and process plants
Schedule production
Manage your global warehousing, supply chain and logistics functions
Forecast product demand
Integrate with dispensary point-of-sale (POS) systems
Compare actuals to expected production to analyze strain efficiency
Coordinate shipments
Maintain compliance across the United States and Canada
Ensure quality control at all stages of production
NexTec helps customers choose and implement the right ERP solution for their unique business needs. Learn more about technology that runs your CannaBusiness and see how NexTec can transform your operations and profitability.